I think one of the most important accounts anybody should have is an emergency fund. Emergency fund isn't an investment - it's just a pile of money sitting in your savings account - far away from you - in case you need it. We've had it for the last 5 or 6 years, and let me tell you - not a lot of things give you the same peace of mind as fully funded emergency fund will give you. My wife repeatedly told me that she feels in peace when she knows that most major problems we might have down the road can be solved by simply accessing our emergency fund.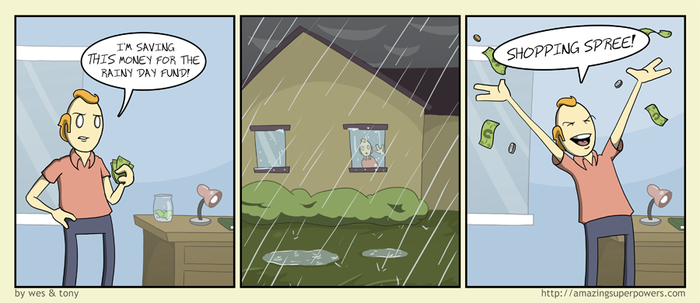 What is it for?
Emergency fund is your old-fashioned rainy day fund. Let's face it, things happen. You want to be prepared for it - and money makes a lot of issues go away without too much stress. For example:
You lose your job and need to find another one - in the mean time you have means to pay the bills.
Transmission on your car goes out and it needs to be towed - your emergency fund will cover the repairs.
Your car gets stolen and you need to cover the deductible.
Hot water tank goes out and needs to be replaced as soon as possible.
What do average people do? Pull out their credit cards if they don't have enough money or borrow money from pay-day loan scam artists. What is the proper way to handle emergencies? Using your own money and tapping into your emergency fund.
What is NOT an emergency?
Being short on cash during Christmas shopping. Seriously, everybody knows when Christmas comes - plan for those expenses in advance, and if you don't have enough money - well, suck it up.
Emergency furniture replacement. Just because your in-laws are coming and your couch looks like it was used for target practice by Somalia's militia - doesn't matter. Don't dare touching it for frivolous expenses.
Kids need new clothes for school - once again, not exactly an emergency.
How can emergency fund help your financial life?
Having emergency fund has multiple benefits which would help an average family to get ahead. First of all, if you use your own money for emergencies, you don't pay interest associated with it. If you were to pay for new transmission with your Visa, you're paying 19%+ in interest or even more with pay-day loans. Second, emergency fund will help you save money - if you have an emergency fund, you can increase deductibles on your car or home owner insurance - which will bring down your premiums considerably.
How do you set one up?
Decide how much you need. It's usually recommended to have 3 to 6 months of expenses. If you're a bit paranoid, bump it up to a year. In our house, it's 4 months - roughly $10,000 dollars. We only used it two times so far - once our car broke down and needed a new alternator (along with tow all the way from Merritt to Kelowna), second time our dryer broke down and needed repairs.
Decide the rules around using it. If you're married, get your partner involved in this discussion - what it's for, what is it not for, etc.
Set it up as a savings account - I recommend ING Direct as you can transfer money between your main checking account with ease, and you can also write checks out of it. The interest paid to you will be minimal, but once again, it's not an investment, it's an insurance against future rainy days.
Start small - put a few hundred in your emergency fund, and see how it feels. Set a goal to fully fund it by certain date, and keep putting money away into it. Once you have it fully funded - enjoy life with less stress about your financials.
Evaluate your fund every 6 or 12 months - what if your expenses went up? Might need to beef it up.
Well, enjoy your race towards the weekend (only 2 days left!), and see you later. I'm The Financial Underdog, and I'm in need of some sort of sandwich…