Hey, who doesn't like free stuff?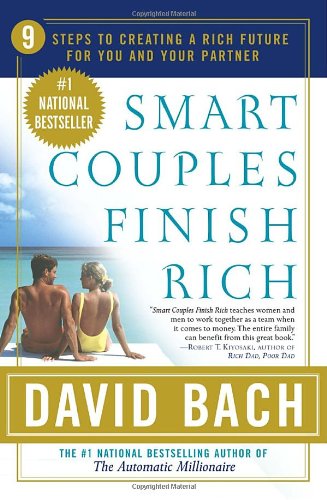 I'm giving away a copy of David Bach's Smart Couples Finish Rich book along with Finish Rich Workbook (both Canadian edition, eh?). If you're struggling with money and would like to change your financial life, I think this would be a great book to read to start your journey to recovery and towards greater financial success.
What's more important, this book focuses on couples. I've always thought agreement on financial matters is absolutely crucial for couples because seen many times what disagreements can do to couple's finances. David explains how to properly communicate with each other about money, and how to get the dialogue going.
This book would be a great help to you if you are in a long-term committed relationship and don't have open, frank discussions with your significant other about money. The entire book focuses on ways to open up this discussion and make it go easier, particularly in the early steps of the plan. The raw financial advice is pretty basic; the power of this book is found in the strengthened relationship that it can facilitate.
About David Bach and his books
A long, long time ago in a galaxy far, far away when I was taking yet another night course in college, I was searching frantically for an article about automatic electronic relays (don't ask me what that is!). By accident, I came across a book review on David Bach's Automatic Millionaire. Being a curious person, I clicked on the link and quickly scanned through it and thought it's worth checking out later - especially since back then I was dealing with being in debt, and one of the chapter was specifically addressing that problem.
David Bach's style of explaining personal finance matters was very appealing to me - not judgmental, action-oriented, and very positive. He didn't say I was a bad person for being in debt, he didn't try to present me with some sketchy concept of attracting money by imagining yourself rich (Yuck!). He simply broke down personal finance into milestones, and walk through them. All I had to do was to follow along.
Later on, I've read a lot of personal finance books. But Automatic Millionaire will always be the book that changed my life after I stumbled upon it completely by accident. Sometimes I wonder how our lives would be different if I didn't click on thank link. Where my net worth would be right now, if I'd still be in debt, if I'd start investing money with a great dream of becoming financially independent one day?
 What do you have to do to get this book?
All you have to do is to leave a comment (or send me an email at [email protected]) and tell me your most important issue with money. What you find the most difficult thing to tackle? What frustrates you the most? Maybe it's your debt, maybe it's fear of investing, maybe it's your secret addiction to Big Whoppers that drains your bank account. Simple as that!
I will pick a winner on Friday, June 20th and will contact you shortly for your mailing address.